为了进一步提高集团综合实力,扩充集团国际人才储备,海航集团将于10月中下旬开启2016国际人才项目全球招募计划,分别飞赴美国、英国9座城市,踏访10所名校,全力网罗全球精英人才,共筑海航集团远大未来!欢迎全球海外学子踊跃报名,Our HNA, Your World!
海航集团是在中国改革开放的时代背景下快速成长起来的大型跨国企业集团。1993年5月2日,以成功首航为起始,海航以崭新的形象驰骋于天地之间。海航集团用了20多年的时间创造了商业史上的奇迹,成功实现了从传统航空企业向巨型企业集团的转型,从偏居一隅的海南岛走向全国、走向世界。
海航通过持之以恒的努力,致力于塑造新时期的商业文明,创立了独特的经营和管控机制,把社会、他人、自身利益融为一体,创造了以中华传统优秀文化为底蕴的崭新管理模式,使中国特色的社会主义价值观和世界级企业的管理制度融为一体,确立了中西合璧的普适性企业文化。
自1993年创业至今,海航集团已历经20余年的发展。20多年来,伴随着我国改革开放的时代大潮,海航逐渐发展壮大,从单一的地方航空运输企业发展成为以航空、实业、旅游、资本、物流、生态科技为支柱的大型企业集团,业务版图从南海明珠初步发展到全球布局,总资产逾6000亿元,参控股上市公司12家,2015年实现收入近1900亿元,为社会提供就业岗位近20万个。
经过20多年的艰苦创业, 2016年7月,海航集团再度荣膺2016《财富》世界500强,以营业收入295.6亿美元,位列第353位,排名较上年上升111名。
HNA Group is one of the fastest growing multinational corporations. Since its first flight in 1993, over the past 20 years, HNA has successfully transformed itself from a traditional aviation company into amulti-industry giant and has developed its business, initially against the backdrop of China's reform period, from Hainan Province to the whole of China and now to the rest of the world.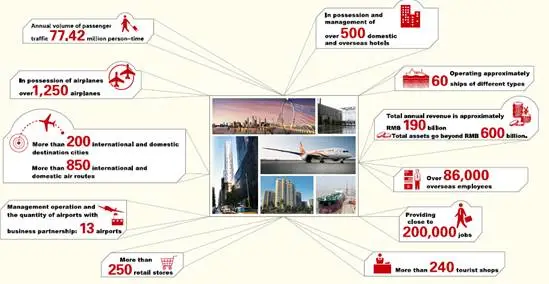 In 2015, HNA Group landed for the first time on the Global Fortune 500, ranking #464. This Year HNA Group now ranks at #353 climbing 111 positions in just one year!
Through optimal allocation of industry resources, HNA Group has built a new business model structured on the three pillars of air travel, logistics and financial services all aimed at promoting smooth travel, smooth freighting and modern concepts of consumption. HNA Group is composed of five sub groups: Tourism, Holdings, Capital, Logistics, and EcoTech.
HNA Tourism is the only tourism group in China integrating aviation, tourism, hospitality, finance as well as online services. Promising to realize customers' dreams to discover the world by offering seamless travel and one-stop aviation services by integrating other ancillary services such as maintenance repair and overhaul (MRO), generalaviation, ground support and air logistics. HNA Tourism strives to become a world-renownedtop global aviation and tourism business both in terms of size and quality of service.
Total assets of over $51 billion

Operating over 820 airplanes, 450 hotels and 200 travel agencies

Covering a flight network of over 850 international and domestic airroutes connecting over 200 cities

Carrying over 77 million passengers annually

Over 8.7 million consecutive safe flight hours
HNA Holding devotes to forging an industrial finance and investment stake-holding group with HNA Infrastructure and CCOOP as itscores business formats, and HNA Financial Group as their investment and financing platform.
Total assets of over $40 billion

Managing 6 listed companies, along with managing operations andco-operation of 13 airports and more than 250 commercial outlets

Over 40,000 employees

Over 4,900 acres (20 sqkm) of existing land reserved for development
HNA Capital acts as the financial function of HNA Group. Using the strong financial background of HNA Group, HNA Capital strives to become a versatile one-stop financial service enterprise, strengthening and establishing itself as aworld-class finance brand.
Total assets up to $64 billion

With nearly 30 member companies and over 1,400 domestic outlets

Operating nearly 550 leasing aircrafts

Over 13,000 employees with operations in Beijing, Tianjin, Shanghai, Shenzhen, Hong Kong, New York, London, Berlin, Dubai and 100 other cities
HNA Logistics covers four major business categories including logistics investment, logistics financial services, supply chain management and HNA smart manufacturing. HNA Logistics strives to be a global investor in the logistics industry and a logistics financial services provider.
Total assets up to $12 billion

With more than 40 member companies employing over 8,000 employees

Ranking 9th in China's shipbuilding with annual ship building capacity of 6 million tons

Operating nearly 60 ships for sea transportation with annualtransportation capacity of over 42.5 million tons

Over 600 cold-chain transport vehicles
Positioned as ahigh-tech industry holding group, HNA EcoTech undertakes the responsibility of developing HNA's strategic transition into a modern information and technology age. HNA Eco-tech integrates resources by linking information, overturning conventional business, building a shared and collaborative technological eco-system and helps to boost HNA Group's demand to become a giant in the modern service and technology industry.
10 member companies, including two data centers in both north and south China and one disaster recovery center

2,000 employees spread across offices in Beijing, Haikou, Xi'An, Hong Kong and SanFrancisco
"Create an ideal and diverse world with HNA!"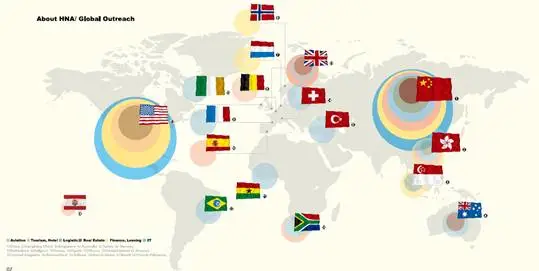 HNA's internationalization began with the opening of the first internationally scheduled route between Beijing and Budapest in 2004

Since 2010, HNA's pace of internationalization has been rapidly accelerating with the first major international acquisition of Australian Allco aircraft leasing business for $150 million

HNA has acquired and invested in over 37 overseas enterprises throughout 17 countries and regions

Current overseas assets total over $34billion, employing over 86,000 overseas employees
International Talent Program (ITP) Overview
"Build the confidence to master your own career!"
In order to accelerate HNA Group's internationalization process, and provide persistent support for its multinational strategic layout, HNA Group is now hiring for high potential international talent. Ideal candidates with overall quality possess excellent English language skills, a global scope and outstanding cultivation potential. HNA Group's ITP will provide an18-to-24-month globally based, diversified and professional talent development system as well as a competitive remuneration package, along with a comprehensive range of benefits.
Initial 6-month Induction Period: Working alongside mentors, you will receive first-hand training while performing regular duties and familiarizing yourself with the company and industry

12-to-18-month Rotation Period: As a well trained staffmember, you will be working on rotations throughout key business are as within the group and receiving professional training

Final Assessment: Before your next career advancement within the multinational, your performance will be assessed based on your individual ITP career development plan and a comprehensive evaluation by your mentors and managers
ITP Department Categories
Investment

Marketing

Branding

Finance

Strategy

HR

Administration

Legal

IT Development and Management
1.Educational Experience: Working toward a Bachelor's degree or advanced degrees from a World Top 100 university (or US top 50) with depending graduation by end of 2017 at the latest
2.English Language: CET 6/IELTS 6.5/TOEFL 80/TOEIC 650 or higher, or native speaker
3.Merit worthy qualifications:
Honor student, scholarship recipient or equivalent, participant/winner of school competition, major recognition or equivalent

Multilingual skills

Wide international perspective

Served as a member of a student union or student organization

Internship experience at a Fortune 500 company

Holder of any professional certificate related to degree
A Continuously Rising Enterprise: You will be working in a continuously growing Fortune 500 enterprise within an energetic and positive work environment

A Global Industrial Chain: Both across China and overseas, the group operates business in the fields of aviation, real estate, hospitality, capital investments, tourism, finance, logistics, shipbuilding and eco-technology

A Systematized Training Program: You will be cooperating with well-known universities receiving professional training, tutorials, workshops, research, business visits, etc.

A Smooth Promotion Channel: Focusing on talent cultivation and personal aptitude, HNA Group continues to value and promote young bright talent with the average age of current management being 35-40

Special Benefits: Discounted flight tickets, hotels, travel packages etc.
Depending on preference, specific skill sets and necessity, ITP talent will begin their programs in Beijing, Shanghai, Hong Kong or Haikou and have the potential to move to other core business both throughout China and internationally.
Step 1 Apply online for HNA ITP positions bysending your CV to or visiting our LinkedIn page (On the last page)
Step 2 Candidates who passed initial screening will be asked to take an online assessment test focused on leadership and logical thinking
Step 3 Candidates who pass theinitial online assessment will be invited to attend a HNA ITP Career Talk eventat a university near you (where available)
Step 4 Attend a scheduled 1 stround on-site interviews after career talk (whereavailable)
Step 5 Qualified candidates will be scheduled for a 2nd round interview with potential line-managers by video, phoneor face-to-face depending on availability and location
Step 6 Approved candidates will be scheduled for a final personality assessment
Step 7 HNA Group will send offer letters to successful candidates
The entire application procedure is expected to take 2-3 months, depending on your application time frame, career talk, follow-up interviews and the start of the next ITP intake
HNA Corporate Social Responsibility
"Pursue an everlasting impact and share the success with the society!"
HNA takes corporate social responsibility as one of its strategic development objectives. Centering around the core value of "Love & Integrity",HNA commits itself in fulfilling it's extensional responsibilities to thecommunity, planet and humanity.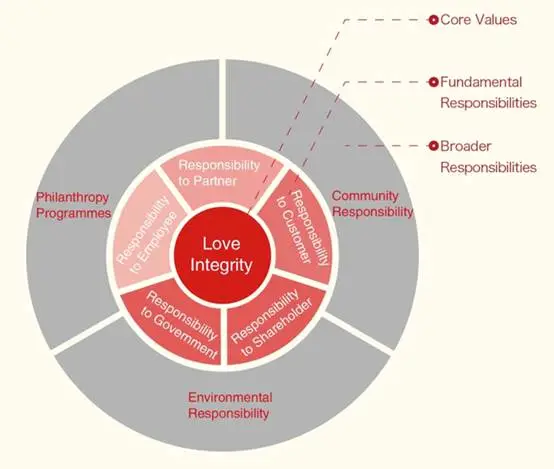 Past activities & achievements
Cumulative total investment of more than $150 million in publiccharities

Ongoing "HNA Brightness Action" has provided vision rehabilitation the rapies for 6,000 cataract patients in China and Africa

Continuous natural disaster relieve support across China with funding and donations of $39 million

"HNA Wells for Arid Areas" project solves drinking water problems for over 220,000 people by drilling 91 wells in arid areas with an investment of $3 million

"HNA Hope School" project invests over $4.5 million to constructand establish 5 elementary schools across China

"HNA Social Venture & Innovation" contests with total investments amounting $1 million

"The Compassion Trip of HNA" invests over $500 thousand to help cure children with congenital heart disease

"HNA Bring Love Home" program has supported over 600 impoverished students of migrant workers and left-behind children to help them go home for the Spring Festival national holiday

Ongoing UNICEF's "Change for Good" fundraising program on board our airlines

"HNA Treasure Island" Scholarship with over 600 students been subsidized for college with grants amounting to $1.1 million

HNA Group donating $1.5 million to UNICEF's Haiti's Child Protection Program

HNA Group donating $5 million to UNESCO's Girls and Women's Education Program in Asia and Africa

HNA group donating $1.5 million to WFP's School Feeding Program in Ghana

Honored to win the international "South-South Award" for achievements in corporate social responsibility

HNA Group honored to win the "China Charity Award" already on four occasions

HNA Volunteer enrollment has reached more than 5,500 persons with total duration of volunteer services reaching 160,000 man-hours

HNA Group has donated 20% of its shares to the Hainan Liberation Commonweal Foundation, making it the largest single shareholder of HNA
"Integrity, performance and innovation are our principles to make things possible!"
For six consecutive years Hainan Airlines has been certified as a SKYTRAX 5-Star Airlines
HNA Group rank #353 in 2016 Fortune 500 Global List

HNA Capital Group ranks Fortune China top 500 in 2016
Hainan Airlines ranked as World's 5th safest airline by JACDEC
Haikou Meilan International Airport ranked as SKYTRAX Four Star Level Terminal and namedBest Regional Airport in China

Sanya Phoenix International Airport selected as the World's Best Airport VIP Terminal by SKYTRAX
Selected as "World's Leading Airline", "World's Leading Excellence Inflight Service", "Asia's Leading Tourism Group", "World Leading Integrated Tourism Group", "World Best Tourism Investment Group", "Asia's Leading Lifestyle Hotel Brand" and "World's Leading Private Jet Charter Company" by World Travel Awards
Tangla Tianjin Hotel received the "6 Star-Diamond Award" by The American Academy of Hospitality Sciences as first hotel in China and 6th in the world
HNA Logistics Group Top 10 most competitive logistics enterprises in China

HNA Eco-Tech Group Top 10 Internet Finance Enterprises in China
HNA Group selected as the Most "in" Employer in China by LinkedIn
海外宣讲会
即将造访你的学校
机会难得
速速mark!
New York University
Information Session:
Oct 17, 2016
3:30pm-4:45pm
Location: NYU Wasserman Center, 2ndfloor, 133 East 13th street, NYU(Just open to students in NYU,students who arenot from NYU please attend Columbia university`s career talk)
Interview:
Oct18, 2016
University of Southern California
Information Session:
Oct 18, 2016
12:00pm - 2:00pm
Location: Trojan Presentation Room (STU)B3
3601 Trousdale Parkway,CA 90089
Interview:
Oct19, 2016
填写USC招聘宣讲会报名链接: https://goo.gl/forms/b8PzdfXY8FA7QKLc2
并发送简历至 This email address is being protected from spambots. You need JavaScript enabled to view it.
Columbia University
Information Session:
Oct 19, 2016
5:00pm-6:00pm
Location: BeaconHall, Beacon Hotel
2130Broadway at 75th Street,NY 10023
Interview:
Oct 20&21,2016
University of Minnesota, Twin Cities
Information Session:
Oct 21, 2016
9:00am-11:00am
Location: 3M Auditorium, CSOM 1-115(Carlson)
32119th Avenue South,MN 55455
Interview:
Oct 21&22,2016
Cornell University
Information Session:
Oct 24, 2016
7:00pm- 9:00pm
Location: ILRCC 227 FSA, ILR Conference Center in King-Shaw Hall,
Cornell University Campus,140Garden Avenue,NY 14853-3901
Interview:
Oct25, 2016
Northwestern
Information Session:
Oct 24, 2016
5:00pm-6:00pm
Location: RoomWildcat B, Norris university Center: 1999 Campus Drive, Evanston, IL 60208
Interview:
Oct 25, 2016
Harvard University
Information Session:
Oct 27, 2016
7:00pm– 9:00pm
Location: HarvardFaculty Club– Reading Room, Presentation Theatre Style 70, 20 Quincy Street,Cambridge, MA 02138
Interview:
Oct 28,2016